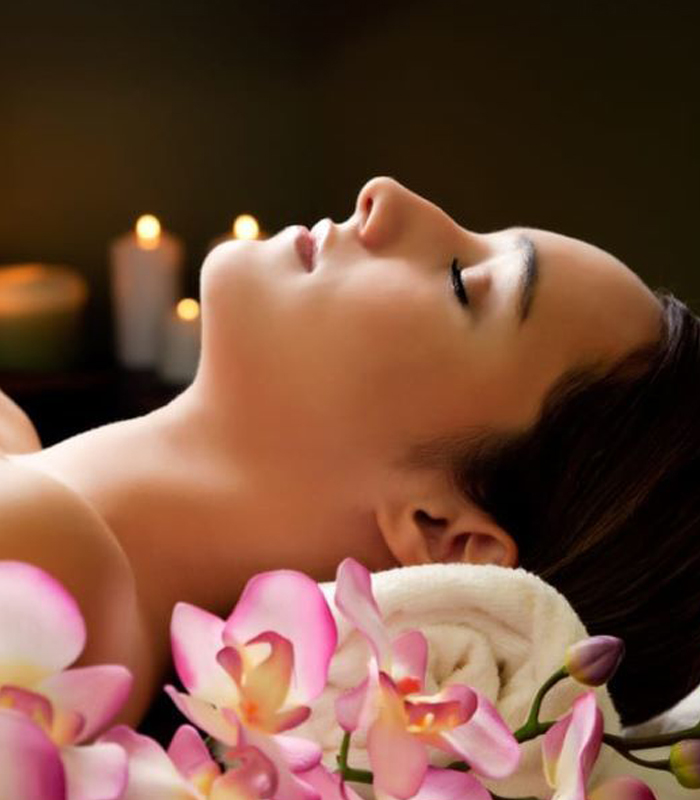 Cosmetic Enhancements
Dreaming of enhancements, but aren't sure which are best for you? Already know what enhancements you're ready for? We're here to help deliver the best enhancements for you.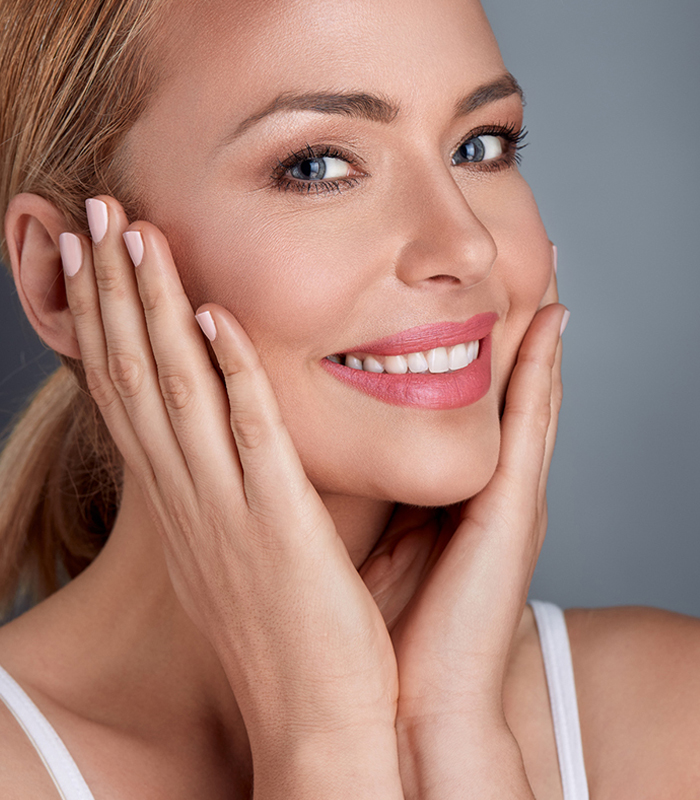 Medspa
Enjoy the powerful benefits of our top ranked Medspa treatments in a relaxing atmosphere. We encourage you to see for yourself the outstanding results these treatments can provide.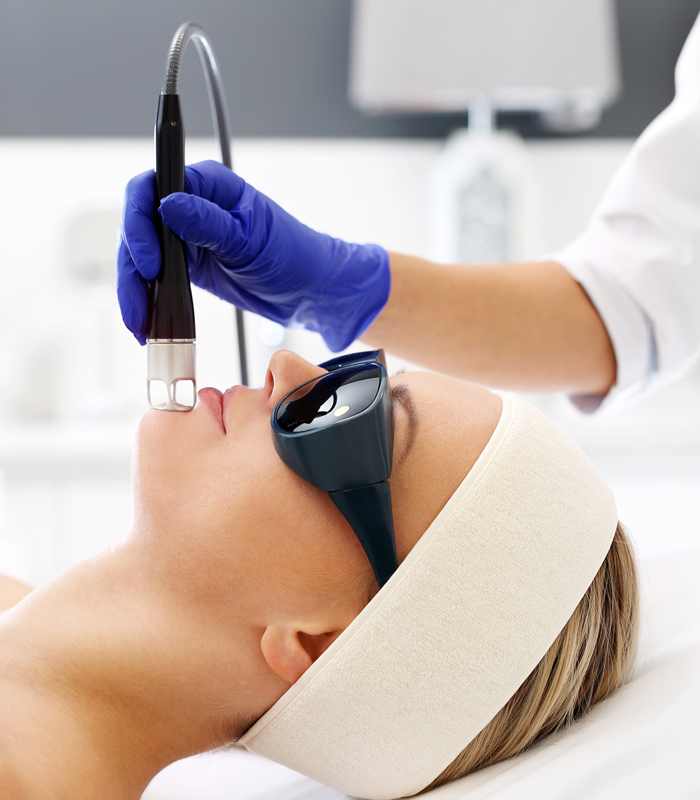 Laser Center
We want you to love your skin. Our gentle laser treatments are available for all skin types. With no contact laser tools you can enjoy reduced treatment times and virtually painless procedures.

LATISSE is the first and only FDA-approved prescription treatment for inadequate or not enough eyelashes. LATISSE grows lashes longer, fuller and darker.
LATISSE solution is a once-a-day treatment you apply topically to the base of your upper eyelashes, as instructed by our medical staff. Then, gradually, the results come in. You may start to see more length in as little as 4 weeks, and you should achieve full growth in 16 weeks. It's your own eyelashes — only better.
How LATISSE works
LATISSE makes lash growth possible because of its active ingredient: bimatoprost. Although the precise mechanism of action is unknown, LATISSE is believed to affect the growth (anagen) phase of the eyelash hair cycle in two ways: first, it increases the length of this phase, and second, it increases the number of hairs in this growth.
Xeomin is the latest cosmetic injectable approved by the FDA to treat facial lines and wrinkles. Xeomin is a product very similar to Botox and Dysport, which are commonly used to treat dynamic wrinkles. Dynamic wrinkles include the forehead lines (horizontal rhytids), fine lines around the eyes (crow's feet), and the furrows between the eyebrows (glabella or 11 lines).
Xeomin works by targeting the wrinkle-causing facial muscles in order to eliminate these dynamic lines. When used properly by an experienced Xeomin specialist, Xeomin can provide a very natural appearing and dramatic improvement in your appearance. Like other drugs in this category, Xeomin works by paralyzing wrinkles.  It blocks the signals from the nerves to the muscles.  As a result, the targeted muscle cannot contract.
BOTOX cosmetic treatment is commonly used to reduce or eliminate the appearance of facial wrinkles. It is quick and minimally invasive. You can expect to see results within a few days after your treatment; however, the appearance of the areas injected may continue to improve for up to a week. Results generally last between three to four months.
Dynamic wrinkles, such as prominent forehead creases, brow furrows, or eye lines (crow's feet), are due to the action of facial muscles. Smooth away frown lines, forehead furrows, crow's feet, neck, or just about any wrinkle on the face without surgery. Just a few small injections and you could look 10 years younger.
Who is a Candidate?
Individuals with expression lines who desire a more youthful appearance
Procedure Description
The muscle is relaxed over a period of several days, and the expression line softens dramatically, becoming less noticeable.
Results last 3 – 4 months, when a repeat injection can be performed.
Areas which are treated may include: lip lines, dimpled chin, mouth frown, gummy smile, neck bands, open eyes, bunny lines, v-neck lines, frown lines, forehead lines, crow's feet, brow lift and necklace lines.
Recuperation & Healing
Botox is an injectable drug that relaxes small areas of muscle for 3 – 4 months.
Botox is injected around deep expression lines of the forehead and bridge of nose that are caused by overactive muscles of expression.
This procedure takes about 15 minutes to perform.
Most clients return to work immediately after treatment with slight bruising that will disappear quickly and can be camouflaged with make-up.
Learn more at botoxcosmetic.com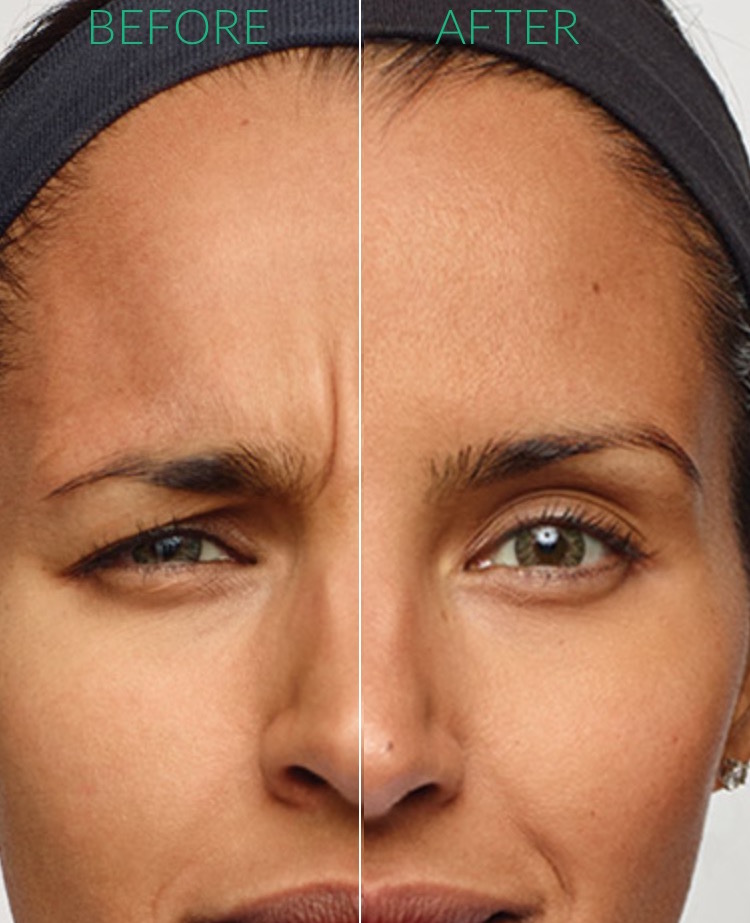 Dysport is a prescription injection for temporary improvement in the look of moderate to severe frown lines between the eyebrows (glabellar lines) forehead wrinkles, and crows feet.
This FDA approved injectable helps diminish the appearance of unsightly lines by reducing muscle contraction in the brow and forehead area. It works beneath the skin to block the signal from the nerve to the muscle, and in turn improve moderate to severe frown lines.
Benefits of Dysport
FDA-approved
Treatment only takes minutes
Can be used in the forehead, between the eyes, or crow's feet
Beautiful results for moderate to severe frown lines
JUVÉDERM Ultra® and Ultra Plus®
JUVÉDERM is the smooth gel filler that we use to instantly smooth away wrinkles around your mouth and nose. With just one treatment  you'll get smooth and natural-looking results that last up to a year.
JUVÉDERM is manufactured using HYLACROSS™ technology, creating a smooth-consistency gel. It is infused with lidocaine to improve comfort during treatment. The JUVÉDERM family of hyaluronic acid dermal fillers provides a smooth, long-lasting correction of moderate to severe facial wrinkles and folds. JUVÉDERM is the first smooth consistency gel formulation and only hyaluronic acid dermal filler approved by the FDA to last up to one year from initial treatment.
Everyone's skin ages differently and JUVÉDERM may be used to rejuvenate multiple problem areas. From smile lines to vertical lip lines, you can smooth away unwanted wrinkles and restore natural contours. A healthy-looking skin contains an abundance of a naturally hydrating substance called hyaluronic acid (HA). But as you age, sunlight and other factors can reduce the amount of HA in your skin. The lack of HA causes your skin to lose structure and volume, creating unwanted facial wrinkles and folds – like those parentheses lines around your nose and mouth.
Using a dermal filler like JUVÉDERM is a safe and effective way to replace the hyaluronic acid your skin has lost, bringing back its volume and smoothing away facial wrinkles and folds.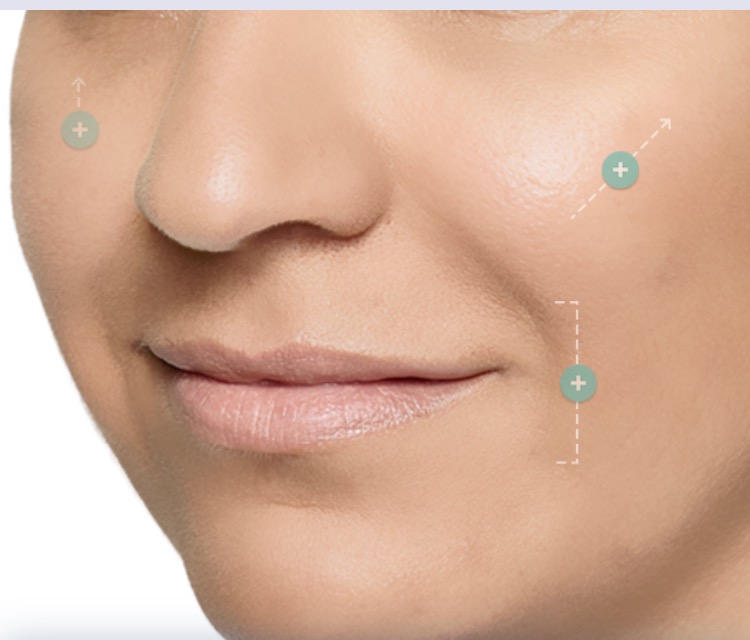 Restalyn Lyft is approved by the FDA for cheek augmentation and the correction of age related midface contour deficiencies in patients over the age of 21. This is in addition to treating moderate to severe facial wrinkles and folds, such as nasolabial folds (smile lines).
Over time, the natural fat that surrounds the cheeks begins to deteriorate, resulting in sagging skin, more prominent wrinkles, and a reduction of volume. Restalyn Lyft, fomerly known as Perlane-L, is an injectable hyaluronic acid gel used to correct volume loss and treat wrinkles in the face. Through non surgical injections, Restalyn Lyft is specifically designed to add fullness to the cheeks and midface area, which can result in a more natural looking, youthful appearance.
Restalyn Lyft is the first and only FDA-approved filler indicated to provide lift to cheeks and add volume to correct and smooth lines.
Everyone's facial structure is different – and so is everyone's ideal lip shape and size. Silk is designed to provide precise lip shaping and line control, resulting in silkier, smoother lips and natural-looking results. Find your ideal lip shape and talk with a specialist about how Restalyn Silk can help you achieve the look you want.
RADIESSE Volumizing Filler is an injectable wrinkle filler that works by immediately restoring facial volume to smooth out the signs of aging. Once injected, not only does it immediately add volume, but over time, RADIESSE Volumizing Filler begins to stimulate the production of the body's natural collagen for results that may last up to a year or more in many patients. Immediately upon injection, RADIESSE Volumizing Filler restores volume to smooth out the signs of aging. The natural-looking results may last up to a year or more in many patients.
RADIESSE Volumizing Filler can be injected in the following locations:
Smile lines: also called the nasolabial folds, are the lines that run from the corners of the nose to the corners of the mouth
Marionette lines: the lines that run downward from the corners of the mouth
Corners of the mouth: also called the oral commissure, if these are turned downward it can make you look as though you're frowning.
Pre-jowl: the area on either side of the chin, where skin can sag due to loss of facial volume
Chin wrinkles: horizontal lines that can form on your chin and distract from your smile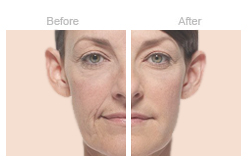 Ranked as one of the Top 3 New Anti Aging Products by ABC News, Perfect Derma Peel combines powerful ingredients with effective acids to deliver outstanding results after one treatment. This unique formula allows for an increase in lifting of fine lines and wrinkles as well as reducing hyperpigmentation including Melasma. The Perfect Derma Peel is a non-invasive, virtually painless treatment with only 2-4 days of peeling. for all skin types and ethnicities.
Microneedling is used to treat and improve conditions like acne scarring, fine lines and wrinkles, loose skin, skin texture, pore size, brown spots, stretch marks, and pigment issues.
Various medical grade facials using our skin care products.
Microderm Abrasion
Hydrafacial, cleanse extract and hydrate skin while infusing highly effective serum's tailored to your specific skin needs. This unique process helps improve the appearance of several skin concerns including fine lines and wrinkles, skin firmness, texture, and poor congestion. Suitable for all skin types this rejuvenating treatment is gentle, noninvasive, and effective immediately. Schedule your free consultation and we will decide if this is the right treatment for you.
Caviar Lime & Passionfruit Mask
This unique enzyme mask delivers advanced exfoliating technology utilizing Lime Pearl Caviar to gently rejuvenate the skin. This complex formulation delivers gentle exfoliation with a bust of antioxidant support.
Firming Peptide Mask
This firming and tightening mask combines some of the latest technology in peptide, antioxidant and dermal regeneration science, resulting in micro circulation, detoxification and instant firming, lifting and tightening.
Australian Super-Berry Antioxidant Mask
A unique combination of exotic berries from the Outback Australian country partnered with the exfoliating properties of Lactic and Mandelic acids, designed to nourish, moisturize and brighten skin for a healthy and radiant appearance.
Green Tea Mask
This clay based mask is designed to pull up impurities, remove keratin buildup and detoxify the skin while providing anti-inflammatory & antioxidant support.
Lactic Acid Peel 35%
Lactic acid is a member of the Alpha Hydroxy group of molecules that promote desquamation of the stratum corneum.
Marshmallow Whip Hydrating Mask
This mask delivers a complex blend of hydrating ingredients to infuse critical hydration into the skin while delivering healing and soothing botanicals to improve the overall health of the skin
Laser Treatments for All Skin Types
Why is our Laser so gentle and virtually painless on the skin as well as skin of color and tanned skin?
The laser's unique 0.65msec pulse duration is shorter than the thermal relaxation time of the skin tissue, so the energy passes through the skin quickly and does not overheat the epidermis melanin. When treating skin of color, this provides new levels of efficacy as well as safety by avoiding pigmentary risk. Also, because skin cooling is not necessary during treatment (no stinging cryogen sprays or gels), the handpiece of the laser does not contact the skin – thereby reducing treatment time in a hygienic procedure while eliminating the irritating skin contact and pain of other laser technologies.
Laser Treatments for Nails & Feet
Nail Fungus Treatment
Onychomycosis, or nail fungus, is an infection of the toenail in which the nail changes color, thickness and quality. In addition to causing an unhealthy appearance, it can cause pain and difficulty walking. Laser treatment for nail fungus is safe, quick and highly effective. Laser procedures for nail fungus are proven to be a much safer and effective method as compared to oral medications or topical creams that can cause many complications. Clinical research has shown that these lasers are now capable of effectively superheating the skin tissue beneath finger and toe nails, causing the coagulation of the soft tissue that is contaminated with fungal material. This can result in a significant cosmetic enhancement for patients. After each treatment, patients are able to resume to their daily activities.
Results are not immediate, as it takes anywhere from 3-6 months for the new, non-infected nail to grow. It is recommended that patients follow a preventative care regimen to avoid reinfection.

Wrinkles/Photo-Rejuvenation
Keep your youthful appearance. Here we offer two gold-standard modalities for the treatment of wrinkles, whether deep or superficial. The non-invasive laser delivers powerful but painless laser pulses deep into the dermis, resulting in collagen stimulation and wrinkle reduction as well as improvements in tone, texture, and an overall healthy glow for the skin. Achieve superficial face lift results in 3-4 treatments.
Hair Removal
We have transformed the business of laser hair removal with new technology that removes pain from the treatment. No stinging cryogen sprays or messy cooling gels. Even on tanned or darker skin types, this provides best-in-class efficacy.  The laser-generated heat is effectively sealed within the follicle, increasing temperature faster.  This results in a substantial increase in treatment efficacy on fair skin and lighter hairs compared to the prior generation of Nd:YAG 1064nm lasers.
Ingrown Hairs ( PFB's)
New laser technology makes ingrown hair treatment effective and safe, gently removing the lesions and surrounding Post-Inflammatory Hyperpigmentation without any contact to the skin in just 1 to 3 treatments.
Spider Veins
We have established a new standard for efficiency and safety in treating spider veins. Any facial vessel as well as leg veins are treated with ease and little or no discomfort by a unique blend of high power and a gentle, safe pulse duration. Most are cleared in just 1 or 2 treatment sessions.
Rosacea
Rosacea is a very common condition of diffuse redness in the facial skin, but the affected area sometimes also contains small broken capillaries and larger facial vessels. This unique laser can clear Rosacea and vessels in quick, gentle treatments without skin contact or cooling.
Angiomas
Angiomas are unsightly red vascular lesions that can occur in most body areas of both women and men. The laser routinely removes angiomas in just 1 or 2 quick, easy, and gentle treatments that only require a few laser pulses.
Pigmented Lesions
Everyone desires clear skin. With this unique MicroPulse laser technology, we now can safely and effectively use the laser modality to remove pigmented conditions including sun and age spots, melasma and post-inflammatory hyperpigmentation.
Melasma
Melasma, a common skin problem, causes dark patches of skin to appear on the face exposed to sun (also referred to the mask of pregnancy). The laser is effective and gentle for the treatment of melasma. Its high power laser energy with a unique 0.65msec pulse duration heats the melasma quickly for higher clearance. It also penetrates much deeper into the dermis as compared with Nd:YAG lasers, affecting deeper layers of melanin and providing better clearance.
Acne Vulgaris
Acne can feel and be debilitating. Here we offer the newest technology for laser therapy in treating acne vulgaris. The highly powerful yet gentle laser pulses superheat the sebaceous gland and its surroundings, where the p. acnes bacteria congregate. The treatment is fast and hygienic as nothing touches the skin except a beam of laser light. With the laser, we can now effectively and safely treat both pediatric and adult acne patients, regardless of skin type (Caucasian, Asian, Indian or African, Hispanic etc.) and reduce the use of antibiotics.
Cutaneous Lesions
Cutaneous lesions are skin growths that come in many shapes and sizes, and historically have been removed with aggressive modalities such as excision or cryotherapy. But with the advent of new laser technology, they can now be removed with precision, avoiding the pain and scarring risk of adjacent tissue damage.
Warts
Warts have traditionally been removed with modalities such as surgical excision, freezing or chemicals. But with new innovative  laser technology, now they can be removed by simply destroying the root vasculature with the laser, thus avoiding collateral tissue damage or scarring as well as minimizing treatment discomfort and eliminating the long healing time from surgical incisions.
Psoriasis
Psoriasis is a common condition that causes skin redness and irritation. Our laser is clinically proven to clear psoriasis plaques. The laser delivers high power energy packaged in optimal fast laser pulses to effectively destroy both superficial and deep microvasculature – the tiny blood vessels that contribute to the formation of psoriasis lesions. A major improvement or clearance of the condition can be seen in just one gentle treatment.
Promoting health through nutrition and exercise
Hours
Wednesday – Friday 10 – 6 Or By Appointment
4535 Old Vestal Road Vestal, New York 13850